Obama Polling Bump: Real But Modest
WASHINGTON — Eight media pollsters have fielded national opinion polls since Christmas, and all eight show a nominal increase in President Barack Obama's job approval rating since their prior surveys in either November, early December or both. While the shifts are often too small to attain statistical significance on any one survey, the consistency of the pattern across surveys indicates the modest change is most likely real. At the same time, the improvement is only enough to move Obama's approval back to the levels recorded last spring.
The table below shows the change in the approval percentage for eight different pollsters on surveys conducted since the November elections (but before last night's speech in Tucson). We have averaged the results of the daily or weekly tracking surveys (such as Gallup, Rasmussen or YouGov/Polimetrix). Again, while the magnitude of the recorded changes is small, the direction is always positive for Obama.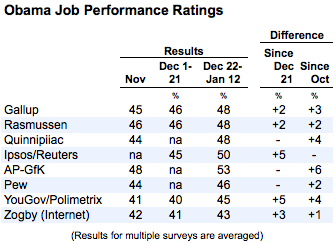 Read More…
More on Barack Obama